Stretching of the abdominal skin with a gain in weight or pregnancy causes a loss of skin elasticity. It may also cause tearing of the skin tissues leading to stretch marks. These changes are often permanent despite an appropriate diet, exercise and weight loss. Surgical scars of the abdomen may also alter its appearance.
During your consultation, we will carefully analyze your abdomen noting any scars, the skin quality and quantity, any fat deposits, muscle tone, and the presence or absence of hernias. Abdominal fat is either located below the skin or within the abdominal cavity. Only fat below the skin may be safetly removed with plastic surgery. The ideal candidate for an abdominoplasty is a healthy, non-smoker, who has no upper abdominal scars and who has maintained their current weight for at least 6 months.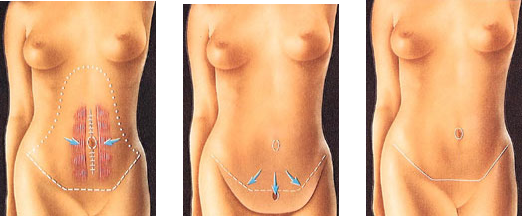 We tailor the type of surgery to your physique. In general, the operation requires a lower abdominal scar extending from one hip to the other, as well as a scar around the navel. The underlying muscles may be tightened to redefine the abdominal outline. The skin and soft tissues are stretched, pulled down, and the surplus removed. Liposuction is often used in combination with an abdominoplasty, to eliminate specific fat deposits such as love handles. A mini-abdominoplasty is a smaller variation of the procedure and can be peformed in situations where there is less abdominal skin to be removed. We will show you before and after photographs of the procedure during your consultation.
After the operation, we recommend that you wear a supportive abdominal binder for the recovery period of 4 to 6 weeks. The risks of the procedure include scars, infection, hematoma (bleeding with the abdomen), seroma (a collection of clear fluid within the abdomen), deep vein thrombosis (blood clots within the legs), and pulmonary embolism. These will be discussed with you during your consultation. Rest assured, we take all necessary precautions to avoid any serious complications following this procedure.
Please visit the following website for examples of this operation: www.surgery.org/public/photos/tummy_tuck