Mastopexy is the surgical procedure of choice to reshape sagging breasts. The breasts are tightened and the nipples raised to the appropriate position on the chest. In general, the scars following this operation are similar to those after breast reduction, but without the important volume reduction. In minor cases, a simple scar around the areola may be possible.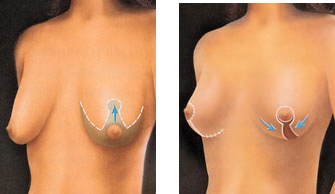 During your consultation, we will evaluate your breasts noting how far your breasts have fallen (breast ptosis), the nipple position in relation to your chest and breast fold, the quality and quantity of your breast skin, and the volume of your breast tissue. We will show you before and after photographs of patients who have undergone the procedure.
Depending on the your desires and your breast anatomy, you may require a breast implant to restore breast volume. We will discuss this with you during your visit.
The risks of a mastopexy are similar to those of a breast reduction.
Please visit the following website for examples of this operation: http://www.surgery.org/public/photos/breast_lift