It is said that "The eyes are the windows of the soul". Their appearance makes up a fundamental part of one's personality. Excess eyelid skin along with protruding fat from around the eyeball may create a tired or sad look. The benefits of eyelid surgery (blepharoplasty) include congratulatory comments from others on your fresh, alert, younger looking appearance. The change is often subtle but very worthwhile.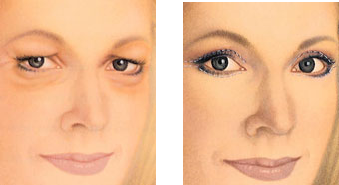 During your consultation, your eyelid skin will be carefully studied along with your eyelid and eyebrow position. You will be shown before and after photographs of patients who have received similar eyelid operations. The precise eyelid procedure is tailored to your specific concerns and particular anatomy. In most cases the scars are hidden in the upper eyelid crease or beneath the lower eyelid lash line. The operation may be performed under local anaesthesia and can be combined with other cosmetic operations. Non-surgical treatments including injections may also be performed before or after the procedure.
While recuperating from surgery, we recommended you use cold compresses to alleviate swelling and reduce the risk of bleeding. In general, recovery time is short and pain free.
Please visit the following website for examples of this operation: www.surgery.org/public/photos/eyelid_surgery